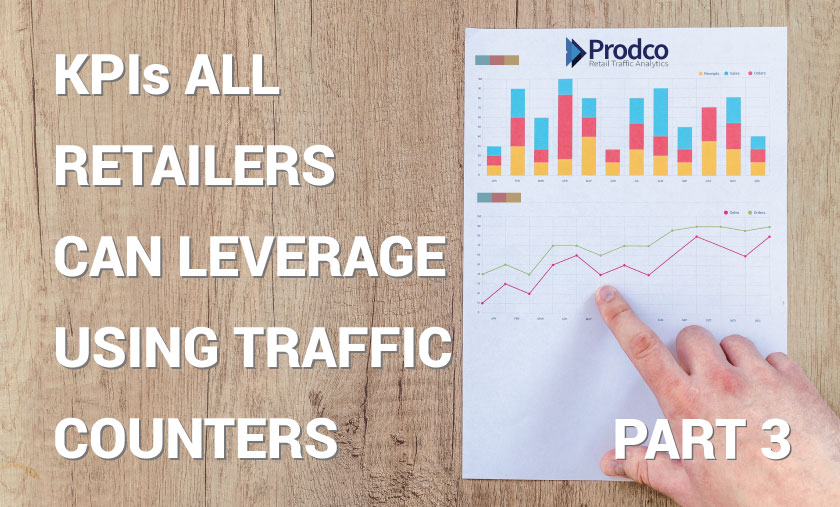 This is the 3rd part of a 4 part series that covers the most relevant KPIs retailers can monitor through Prodco's Traffic Counting Solutions.
Last time, we talked about:
Average Visit Duration
Engagement Rate
Bounce Rate
If you haven't read part 1 and part 2, make sure to do so.
Like many KPIs we are covering, it is important to be aware that this data requires your counting solution to have integrated WiFi technology. Fortunately, Prodco's modern Stereoscopic 3D cameras include WiFi as a basic feature.
7. New Visits
Being able to differentiate new visitors from recurring customers is a compelling feature that can be offered through WiFi-enabled devices.
Let us start first by explaining the technology behind it. How can this be achieved?
Our Wi-Fi-enabled solutions sense the non-personal Wi-Fi pings emitted by smartphones. Using these pings, we measure how customers flow through your store, how long they stay and how often they return.
We then analyze the non-personal data and automatically turn the raw numbers into valuable insights.
To protect the shoppers' privacy, all data is anonymized and encrypted. We never capture or store any biometric or personal data as per GDPR and international privacy laws.
How to leverage this KPI?
The number of first-time visitors entering the store is a good indication of the performance of your marketing initiatives and displays, and how it may attract potential new customers to your store.
8. Repeated Visits
This is the number of visitors who have already visited the store in the past.
For many retailers, regular customers are a fundamental component of their business prosperity and longevity. In some industries, it is often more expensive to acquire new customers than to invest in customer retention.
This survey even suggests that it could cost 5 times more to acquire a new customer, whether online or in the brick-and-mortar world.
A big part of a retailer's customer retention strategy is to put in place attractive loyalty programs, to engage customers, to have a good mix of products always available, and to ensure a high level of customer service at all time, thus, encouraging customers to come back.
In fact, your loyal customers can play a key role in your acquisition strategy. Indeed, word-of-mouth and case studies are powerful sources of new customers, making customer retention an important aspect to focus on. As mentioned before, the benefit of recurring customers over new customers is that they require fewer resources.
Also, not all stores are created equal and some might be located in highly touristic areas, thus affecting the ratio of New vs Repeated Visits. For that reason, this KPI comes in handy to understand which stores need to be targeted with bespoke marketing campaigns.
Depending on your vision, customer incentives might not always be the appropriate approach to build strong customer loyalty and keep your customers happy. Apple, for instance, has built more than a fan base by creating a cult around the brand, without offering any special incentive.
All in all, this KPI can be used to gain insights into the loyalty of your customers. Are marketing initiatives, loyalty programs, and brand awareness efforts paying off? Do your customers come back to your store?
9. Cross Store Visits
Cross Store Visits, or the number of stores a visitor has visited for a selected period.
Like Repeated Visits, Cross Store Visits are very beneficial to assess the loyalty of your customers towards your brand(s). Unlike Repeated Visits which focus on a specific location, CSVs bring to light the whole brand by providing insights on how your customers are interacting in different locations of the retail chain.
This tool can also be a great way to compare your brands within your chain and highlights the capacity of your different brands to retain customers.
———
Prodco Analytics delivers a comprehensive analysis platform that highlights where opportunities for improvement exist and helps your stores reach their real performance potential. Our retail performance solution delivers a deeper understanding of shopper behavior with real-time analytics at all levels of the operations and marketing team.