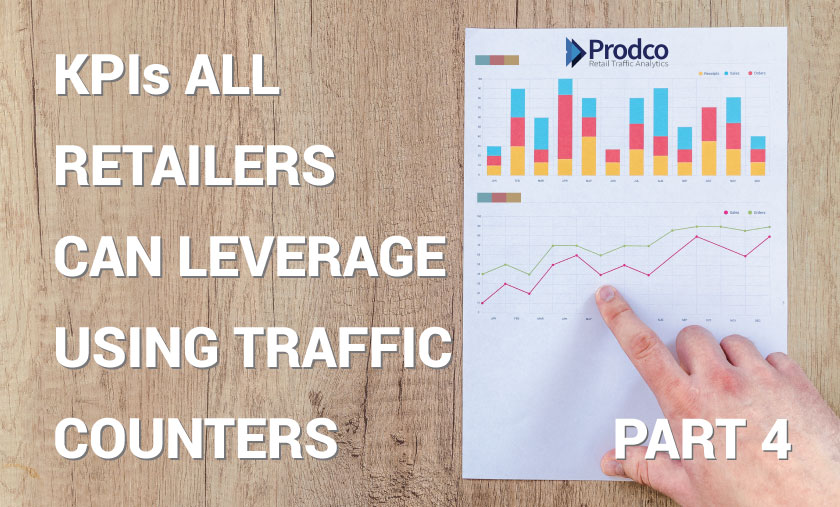 This is the 4th and final part of our series that covers the most relevant KPIs retailers can monitor through Prodco's Traffic Counting Solutions.
Last time, we talked about:
New Visits
Repeated Visits
Cross Store Visits
Make sure to read part 1, part 2 and part 3 first.
Like many KPIs we are covering, it is important to be aware that this data requires your equipment to have integrated WiFi. Fortunately, Prodco's modern Stereoscopic 3D cameras include WiFi technology as a basic feature.
10. Visit Frequency
Similarly to the KPIs covered in our previous article, this metric is primarily used to measure brand loyalty. But while the previous KPIs only distinguish Repeated Visits from New Visits, this provides more information by highlighting how often a customer returns to your store.
The common knowledge in the retail industry has always been to find ways to encourage customers to come back to a store, instead of investing massively in customer acquisition.
As such, make your loyalty program relevant, unique and easy to join by offering them the possibility to subscribe through mobile apps, kiosks or iPads available in the store. Take advantage of the Visit Frequency KPI to assess your marketing initiatives.
If your goal is to improve the Visit Frequency, make sure to talk to your customers directly, and give them compelling reasons to visit. It is always important to ensure good service levels, to increase customer engagement and to keep offerings new and exciting by providing variety.
11. Visit Recency
Visit Recency is used to measure the return visit cycle of your store. It is the average number of weeks between visits for your customer base. In other words, how often they visit.
This KPI is another tool to better understand the journey of your customers, their needs as well as their behavior.
Understanding your customer's return visit cycle can help you schedule your sales associate more efficiently and provide the correct merchandising mixture to maximize your opportunity to increase sales.
12. Shopper Retention
With Prodco's analytics platform, you will have access to a metric called Shopper Retention. Although similar to Visit Frequency, it goes much more in depth as it provides insights on a longer period of time.
This is a powerful way to differentiate frequent visitors from occasional visitors, and to understand what customer profile is the most valuable to your business. Are more-engaged visitors converting better? This data can be used effectively to turn visitors into valuable and long-term customers and to evaluate the performance of your marketing campaigns.
Acquiring new customers is, of course, relevant and can greatly impact the growth of your business. But as mentioned previously, it's not the only way to increase your profits.
For many retailers, it will make more sense to focus their efforts on customer retention, as it's a much more cost-effective strategy. Not only is retention cheaper than acquisition, but it also has a very high ROI.
——-
Prodco Analytics delivers a comprehensive analysis platform that highlights where opportunities for improvement exist and helps your stores reach their real performance potential. Our retail performance solution delivers a deeper understanding of shopper behavior with real-time analytics at all levels of the operations and marketing team.